图书搜索 (又名 DieBuchSuche) - 搜索引擎的所有的书.
9787020024063-所有书籍都比较每个报价
档案条目: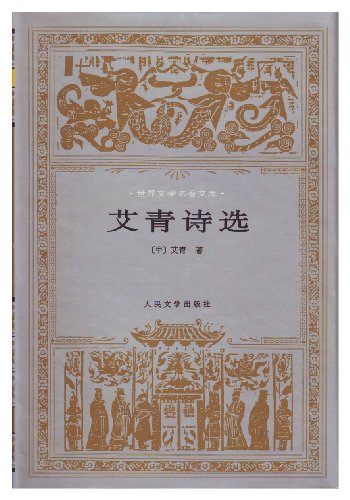 Ai Qing Selected Poems (World Literature Library) hardcover edition of a print(Chinese Edition)(Old-Used)
(?)
ISBN:
9787020024063 (?) 或 7020024068
, 未知的语言, 精装书, 使用
免费送货
Ship out in 2 business day, And Fast shipping, Free Tracking number will be provided after the shipment.HardCover. Pub Date :1997-11 Pages: 368 Publisher: People's Literature Publishing House sheet: 11.875 book individual pages underlined and writing. see pictures.Four Satisfaction guaranteed,or money back.
从数据 2017-05-26 23:14h
ISBN
(替代符号): 7-02-002406-8, 978-7-02-002406-3
Ai Qing Selected Poems (World Literature Library) hardcover edition of a print(Chinese Edition)

(2000) (?)
ISBN:
9787020024063 (?) 或 7020024068
, 未知的语言, People's Literature Publishing House, 精装书, 使用
¥
943 (
US$
133,
75
)
¹
+ 航运:

¥

120 (

US$

16,

95

)

¹
=
¥

1.063 (

US$

150,

70

)

¹
(没有义务)
Usually ships in 1-2 business days
从卖方/古玩, LoveChinaBook
Hardcover, 标签: People's Literature Publishing House, People's Literature Publishing House, 产品组: Book, 出版: 2000-01-01, 工作室: People's Literature Publishing House
平台订单编号 Amazon.com: W5wOIIKSUExiMjVl3zr3lKKlTku8aKQtlzNEnu0fUsNVP8tjPNiSOEEzX5aJd2x5YdeLdnS3x%2FmVSp0NUtdaQ70k3%2FcOG%2FuYjzhL8yPkAetf6oKx%2BqbTyvKw%2Fg9ThLpeH%2FNYGV0IQwJJ850ZYIilJY3NAdC1nEb2
关键字: Arts & Photography, Biographies & Memoirs, Business & Money, Calendars, Children's Books, Christian Books & Bibles, Comics & Graphic Novels, Computers & Technology, Cookbooks, Food & Wine, Crafts, Hobbies & Home, Education & Teaching, Engineering & Transportation, Gay & Lesbian, Health, Fitness & Dieting, History, Humor & Entertainment, Law, Literature & Fiction, Medical Books, Mystery, Thriller & Suspense, Parenting & Relationships, Politics & Social Sciences, Reference, Religion & Spirituality, Romance, Science & Math, Science Fiction & Fantasy, Self-Help, Sports & Outdoors, Teen & Young Adult, Test Preparation, Travel
从数据 2017-05-26 23:14h
ISBN
(替代符号): 7-02-002406-8, 978-7-02-002406-3
9787020024063
国际标准书号号码找到可用的所有书 9787020024063 比较价格,快速、 轻松地和立即订购。
可用的善本、 用过的书和二手书的标题 "Selected Poems (World Literature Library) hardcover edition of a print(Chinese Edition)(Old-Used)" 从 AI QING ZHU 完全列出。
zahnradbearbeitung gebraucht hans dieter philipowski